Raticate G Pokémon Card Value
Raticate G

- Supreme Victors Price
(78/147) (Uncommon)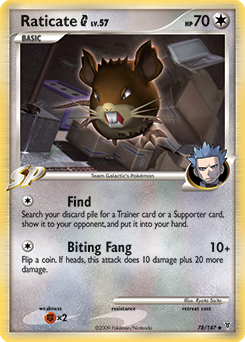 | Min | Avg | Max |
| --- | --- | --- |
| $0.99 | $2.81 | $16.00 |
Avg Last Week
$1.83

+53.55%
Raticate G Supreme Victors Card Stats & Information:
HP: 70
Attacks:
Find: Search your discard pile for a Trainer card or a Supporter card, show it to your opponent, and put it into your hand.
Biting Fang: Flip a coin. If heads, this attack does 10 damage plus 20 more damage.
Weaknesses:
Fighting: x2
Supreme Victors Raticate G card artist: Ryota Saito