Alolan Raticate Pokémon Card Value
Alolan Raticate

- Sun & Moon Price
(77/149) (Uncommon)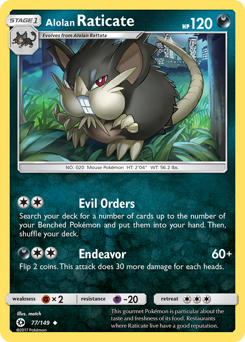 | Min | Avg | Max |
| --- | --- | --- |
| $0.99 | $1.29 | $1.95 |
Avg Last Week
$1.38

-6.52%
Alolan Raticate Sun & Moon Card Stats & Information:
HP: 120
Attacks:
Evil Orders: Search your deck for a number of cards up to the number of your Benched Pokemon and put them into your hand. Then, shuffle your deck.
Endeavor: Flip 2 coins. This attack does 30 more damage for each heads.
Resistances:
Psychic: -20
Weaknesses:
Fighting: x2
Sun & Moon Alolan Raticate card artist: match