Light Vaporeon Pokémon Card Value
Light Vaporeon

- Neo Destiny Price
(52/105) (Uncommon)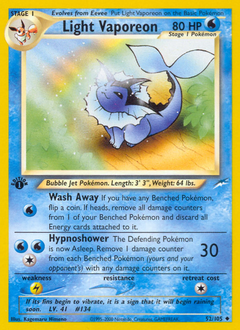 | Min | Avg | Max |
| --- | --- | --- |
| $5.99 | $22.76 | $44.00 |
Avg Last Week
$26.30

-13.46%
Light Vaporeon Neo Destiny Card Stats & Information:
HP: 80
Attacks:
Wash Away: If you have any Benched Pokemon, flip a coin. If heads, remove all damage counters from 1 of your Benched Pokemon and discard all Energy cards attached to it.
Hypno Shower: The Defending Pokemon is now Asleep. Remove 1 damage counter from each Benched Pokemon (yours and your opponent's) with any damage counters on it.
Weaknesses:
Lightning: x2
Neo Destiny Light Vaporeon card artist: Kagemaru Himeno