Dark Flareon Pokémon Card Value
Dark Flareon

- Team Rocket Price
(35/82) (Uncommon)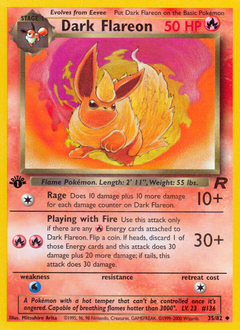 | Min | Avg | Max |
| --- | --- | --- |
| $2.00 | $3.21 | $5.00 |
Avg Last Week
$2.98

+7.71%
Dark Flareon Team Rocket Card Stats & Information:
HP: 50
Attacks:
Rage: Does 10 damage plus 10 more damage for each damage counter on Dark Flareon.
Playing with Fire: Use this attack only if there are any Energy cards attached to Dark Flareon. Flip a coin. If heads, discard 1 of those Energy cards and this attack does 30 damage plus 20 more damage. If tails, this attack does 30 damage.
Weaknesses:
Water: x2
Team Rocket Dark Flareon card artist: Mitsuhiro Arita