Zapdos G Pokémon Card Value
Zapdos G

- Arceus Price
(12/99) (Rare Holo)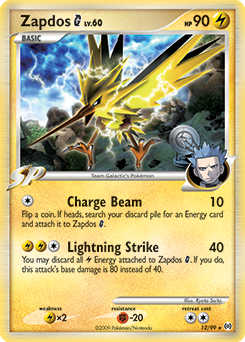 | Min | Avg | Max |
| --- | --- | --- |
| $2.00 | $5.79 | $8.00 |
Avg Last Week


Warning: Division by zero in /home/customer/www/pokemoncardvalue.com/public_html/wp-content/themes/wp-bootstrap-starter/single-pokemon.php on line 854

$0.00 +
Warning: bcdiv(): bcmath function argument is not well-formed in /home/customer/www/pokemoncardvalue.com/public_html/wp-content/themes/wp-bootstrap-starter/single-pokemon.php on line 865
0.00%
Zapdos G Arceus Card Stats & Information:
HP: 90
Attacks:
Charge Beam: Flip a coin. If heads, search your discard pile for an Energy card and attach it to Zapdos .
Lightning Strike: You may discard all Lightning Energy attached to Zapdos . If you do, this attack's base damage is 80 instead of 40.
Resistances:
Fighting: -20
Weaknesses:
Lightning: x2
Arceus Zapdos G card artist: Ryota Saito