Weavile G Pokémon Card Value
Weavile G

- Platinum Price
(17/127) (Rare Holo)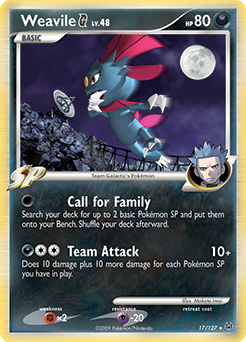 | Min | Avg | Max |
| --- | --- | --- |
| $1.80 | $13.18 | $59.99 |
Avg Last Week
$2.08

+533.65%
Weavile G Platinum Card Stats & Information:
HP: 80
Attacks:
Call for Family: Search your deck for up to 2 basic Pokemon SP and put them onto your Bench. Shuffle your deck afterward.
Team Attack: Does 10 damage plus 10 more damage for each Pokemon SP you have in play.
Resistances:
Psychic: -20
Weaknesses:
Fighting: x2
Platinum Weavile G card artist: Makoto Imai