Togekiss-EX Pokémon Card Value
Togekiss-EX

- BREAKpoint Price
(83/122) (Rare Holo)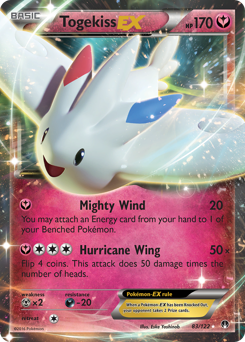 | Min | Avg | Max |
| --- | --- | --- |
| $1.50 | $2.96 | $3.99 |
Avg Last Week
$2.65

+11.69%
Togekiss-EX BREAKpoint Card Stats & Information:
Card text: When a Pokemon-EX has been Knocked Out, your opponent takes 2 Prize cards.
HP: 170
Attacks:
Mighty Wind: You may attach an Energy card from your hand to 1 of your Benched Pokemon.
Hurricane Wing: Flip 4 coins. This attack does 50 damage times the number of heads.
Resistances:
Darkness: -20
Weaknesses:
Metal: x2
BREAKpoint Togekiss-EX card artist: Eske Yoshinob