Togedemaru Pokémon Card Value
Togedemaru is a electric and steel type Pokemon.
Below is a compiled list of prices and values separated by TCG set. Available are the minimum, average, and maximum prices which are updated on an hourly basis. Each set also contains the current price average percent increase or decrease in comparison to the average for the previous week.
Togedemaru

- Sun & Moon
(53/149) (Common)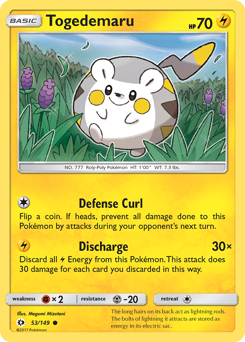 | Min | Avg | Max |
| --- | --- | --- |
| $0.99 | $1.25 | $1.99 |
Avg Last Week
$1.31

-4.58%
Card information:
HP: 70
Attacks:
Defense Curl: Flip a coin. If heads, prevent all damage done to this Pokemon by attacks during your opponent's next turn.
Discharge: Discard all Lightning Energy from this Pokemon. This attack does 30 damage for each card you discarded in this way.
Resistances:
Metal: -20
Weaknesses:
Fighting: x2
Artist: Megumi Mizutani