Skarmory FB Pokémon Card Value
Skarmory FB

- Supreme Victors Price
(83/147) (Uncommon)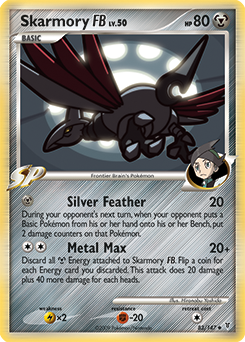 | Min | Avg | Max |
| --- | --- | --- |
| $0.99 | $3.30 | $5.99 |
Avg Last Week
$1.94

+70.10%
Skarmory FB Supreme Victors Card Stats & Information:
HP: 80
Attacks:
Silver Feather: During your opponent's next turn, when your opponent puts a Basic Pokemon from his or her hand onto his or her Bench, put 2 damage counters on that Pokemon.
Metal Max: Discard all Metal Energy attached to Skarmory FB. Flip a coin for each Energy card you discarded. This attack does 20 damage plus 40 more damage for each heads.
Resistances:
Fighting: -20
Weaknesses:
Lightning: x2
Supreme Victors Skarmory FB card artist: Hironobu Yoshida