Sabrina's Haunter Pokémon Card Value
Sabrina's Haunter

- Gym Heroes Price
(58/132) (Uncommon)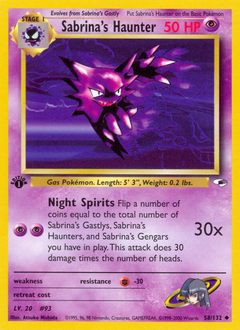 Sabrina's Haunter Gym Heroes Card Stats & Information:
HP: 50
Attacks:
Night Spirits: Flip a number of coins equal to the total number of Sabrina's Gastlys, Sabrina's Haunters, and Sabrina's Gengars you have in play. This attack does 30 damage times the number of heads.
Resistances:
Fighting: -30
Gym Heroes Sabrina's Haunter card artist: Atsuko Nishida
No cards available
Sabrina's Haunter

- Gym Challenge Price
(55/132) (Uncommon)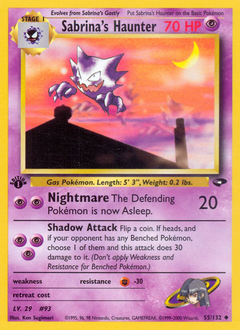 Sabrina's Haunter Gym Challenge Card Stats & Information:
HP: 70
Attacks:
Nightmare: The Defending Pokemon is now Asleep.
Shadow Attack: Flip a coin. If heads, and if your opponent has any Benched Pokemon, choose 1 of them and this attack does 30 damage to it. (Don't apply Weakness and Resistance for Benched Pokemon.)
Resistances:
Fighting: -30
Gym Challenge Sabrina's Haunter card artist: Ken Sugimori
No cards available
Open
We use cookies to improve our site experience.
Click below to agree and accept our use of cookies, analytics tracking by Google Analytics, and ad targeting through Google Adsense.