Sabrina's Gengar Pokémon Card Value
Sabrina's Gengar

- Gym Heroes Price
(14/132) (Rare Holo)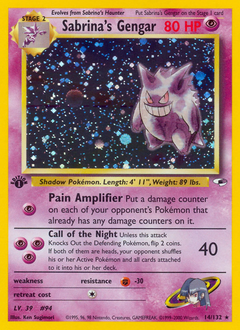 Sabrina's Gengar Gym Heroes Card Stats & Information:
HP: 80
Attacks:
Pain Amplifier: Put a damage counter on each of your opponent's Pokemon that already has any damage counters on it.
Call of the Night: Unless this attack Knocks Out the Defending Pokemon, flip 2 coins. If both of them are heads, your opponent shuffles his or her Active Pokemon and all cards attached to it into his or her deck.
Resistances:
Fighting: -30
Gym Heroes Sabrina's Gengar card artist: Ken Sugimori
No cards available
Sabrina's Gengar

- Gym Challenge Price
(29/132) (Rare)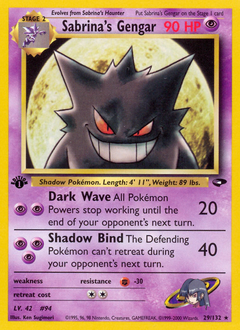 Sabrina's Gengar Gym Challenge Card Stats & Information:
HP: 90
Attacks:
Dark Wave: All Pokemon Powers stop working until the end of your opponent's next turn.
Shadow Bind: The Defending Pokemon can't retreat during your opponent's next turn.
Resistances:
Fighting: -30
Gym Challenge Sabrina's Gengar card artist: Ken Sugimori
No cards available
Open
We use cookies to improve our site experience.
Click below to agree and accept our use of cookies, analytics tracking by Google Analytics, and ad targeting through Google Adsense.