Rayquaza C Pokémon Card Value
Rayquaza C

- Supreme Victors Price
(8/147) (Rare Holo)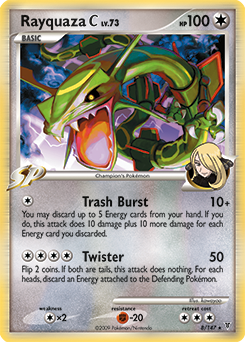 | Min | Avg | Max |
| --- | --- | --- |
| $5.50 | $11.98 | $16.99 |
Avg Last Week
$17.94

-33.22%
Rayquaza C Supreme Victors Card Stats & Information:
HP: 100
Attacks:
Trash Burst: You may discard up to 5 Energy cards from your hand. If you do, this attack does 10 damage plus 10 more damage for each Energy card you discarded.
Twister: Flip 2 coins. If both are tails, this attack does nothing. For each heads, discard an Energy attached to the Defending Pokemon.
Resistances:
Fighting: -20
Weaknesses:
Colorless: x2
Supreme Victors Rayquaza C card artist: kawayoo