Primarina-GX Pokémon Card Value
Primarina-GX

- Sun & Moon Price
(42/149) (Ultra-Rare Rare)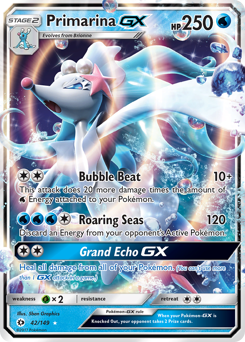 | Min | Avg | Max |
| --- | --- | --- |
| $2.25 | $3.45 | $4.00 |
Avg Last Week
$3.75

-8.00%
Primarina-GX Sun & Moon Card Stats & Information:
Card text: When your Pokemon-GX is Knocked Out, your opponent takes 2 Prize cards.
HP: 250
Attacks:
Bubble Beat: This attack does 20 more damage times the amount of Water Energy attached to your Pokemon.
Roaring Seas: Discard an Energy from your opponent's Active Pokemon.
Grand Echo-GX: Heal all damage from all of your Pokemon. (You can't use more than 1 GX attack in a game.)
Weaknesses:
Grass: x2
Sun & Moon Primarina-GX card artist: 5ban Graphics