Mr. Mime 4 Pokémon Card Value
Mr. Mime 4

- Rising Rivals Price
(28/111) (Rare)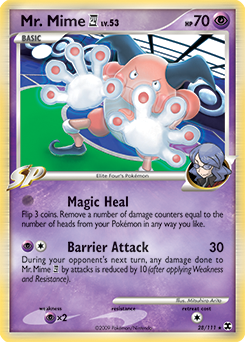 | Min | Avg | Max |
| --- | --- | --- |
| $1.68 | $5.43 | $27.99 |
Avg Last Week
$1.90

+185.78%
Mr. Mime 4 Rising Rivals Card Stats & Information:
HP: 70
Attacks:
Magic Heal: Flip 3 coins. Remove a number of damage counters equal to the number of heads from your Pokemon in any way you like.
Barrier Attack: During your opponent's next turn, any damage done to Mr.Mime by attacks is reduced by 10 (after applying Weakness and Resistance).
Weaknesses:
Psychic: x2
Rising Rivals Mr. Mime 4 card artist: Mitsuhiro Arita