Meowstic-EX Pokémon Card Value
Meowstic-EX

- Generations Price
(37/83) (Rare Holo)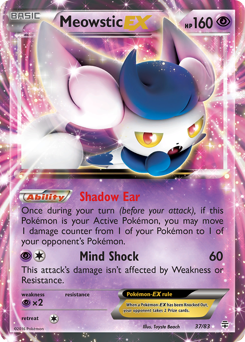 | Min | Avg | Max |
| --- | --- | --- |
| $1.71 | $3.45 | $4.99 |
Avg Last Week
$2.67

+29.21%
Meowstic-EX Generations Card Stats & Information:
Card text: When a Pokemon-EX has been Knocked Out, your opponent takes 2 Prize cards.
HP: 160
Attacks:
Mind Shock: This attack's damage isn't affected by Weakness or Resistance.
Weaknesses:
Psychic: x2
Abilities:
Shadow Ear:
Once during your turn (before your attack), if this Pokemon is your Active Pokemon, you may move 1 damage counter from 1 of your Pokemon to 1 of your opponent's Pokemon.
Ability
Generations Meowstic-EX card artist: Toyste Beach