Lt. Surge's Spearow Pokémon Card Value
Lt. Surge's Spearow

- Gym Heroes Price
(83/132) (Common)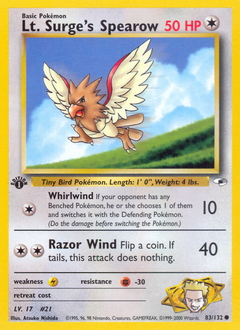 Lt. Surge's Spearow Gym Heroes Card Stats & Information:
HP: 50
Attacks:
Whirlwind: If your opponent has any Benched Pokemon, he or she chooses 1 of them and switches it with the Defending Pokemon. (Do the damage before switching the Pokemon.)
Razor Wind: Flip a coin. If tails, this attack does nothing.
Resistances:
Fighting: -30
Weaknesses:
Lightning: x2
Gym Heroes Lt. Surge's Spearow card artist: Atsuko Nishida
No cards available
Lt. Surge's Spearow

- Gym Heroes Price
(52/132) (Uncommon)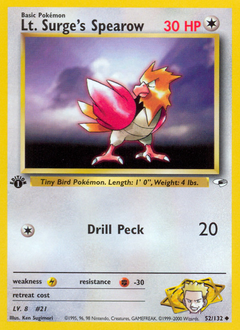 Lt. Surge's Spearow Gym Heroes Card Stats & Information:
HP: 30
Attacks:
Drill Peck:
Resistances:
Fighting: -30
Weaknesses:
Lightning: x2
Gym Heroes Lt. Surge's Spearow card artist: Ken Sugimori
No cards available
Open
We use cookies to improve our site experience.
Click below to agree and accept our use of cookies, analytics tracking by Google Analytics, and ad targeting through Google Adsense.