Light Venomoth Pokémon Card Value
Light Venomoth

- Neo Destiny Price
(53/105) (Uncommon)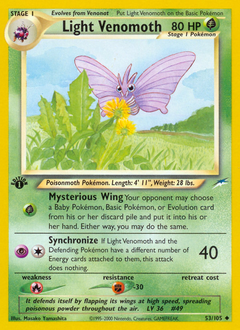 | Min | Avg | Max |
| --- | --- | --- |
| $3.00 | $7.43 | $11.99 |
Avg Last Week
$21.89

-66.05%
Light Venomoth Neo Destiny Card Stats & Information:
HP: 80
Attacks:
Mysterious Wing: Your opponent may choose a Baby Pokemon, Basic Pokemon, or Evolution card from his or her discard pile and put it into his or her hand. Either way, you may do the same.
Synchronize: If Light Venomoth and the Defending Pokemon have a different number of Energy cards attached to them, this attack does nothing.
Resistances:
Fighting: -30
Weaknesses:
Fire: x2
Neo Destiny Light Venomoth card artist: Masako Yamashita