Koga's Pidgey Pokémon Card Value
Koga's Pidgey

- Gym Challenge
(49/132) (Uncommon)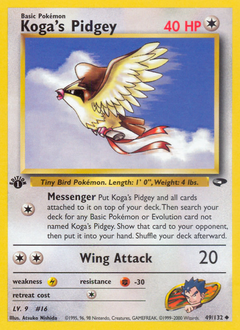 Card information:
HP: 40
Attacks:
Messenger: Put Koga's Pidgey and all cards attached to it on top of your deck. Then search your deck for any Basic Pokemon or Evolution card not named Koga's Pidgey. Show that card to your opponent, then put it into your hand. Shuffle your deck afterward.
Wing Attack:
Resistances:
Fighting: -30
Weaknesses:
Lightning: x2
Artist: Atsuko Nishida
No cards available
Koga's Pidgey

- Gym Challenge
(80/132) (Common)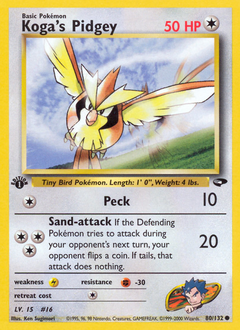 Card information:
HP: 50
Attacks:
Peck:
Sand-attack: If the Defending Pokemon tries to attack during your opponent's next turn, your opponent flips a coin. If tails, that attack does nothing.
Resistances:
Fighting: -30
Weaknesses:
Lightning: x2
Artist: Ken Sugimori
No cards available
Open
We use cookies to improve our site experience.
Click below to agree and accept our use of cookies, analytics tracking by Google Analytics, and ad targeting through Google Adsense.