Heat Rotom Pokémon Card Value
Heat Rotom

- Rising Rivals Price
(RT3) (Rare Holo)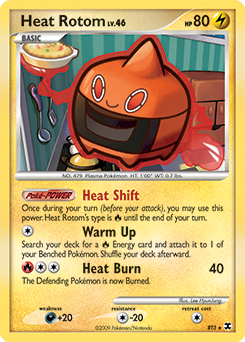 | Min | Avg | Max |
| --- | --- | --- |
| $8.37 | $72.35 | $749.99 |
Heat Rotom Rising Rivals Card Stats & Information:
HP: 80
Attacks:
Warm Up: Search your deck for a Fire Energy card and attach it to 1 of your Benched Pokemon. Shuffle your deck afterward.
Heat Burn: The Defending Pokemon is now Burned.
Resistances:
Colorless: -20
Weaknesses:
Darkness: +20
Abilities:
Heat Shift:
Once during your turn (before your attack), you may use this power. Heat Rotom's type is Fire until the end of your turn.
Poke-Power
Rising Rivals Heat Rotom card artist: Lee HyunJung