Greninja Pokémon Card Value
Greninja is a water and dark type Pokemon. It evolves from Frogadier.
Below is a compiled list of prices and values separated by TCG set. Available are the minimum, average, and maximum prices which are updated on an hourly basis. Each set also contains the current price average percent increase or decrease in comparison to the average for the previous week.
Greninja

- XY Price
(41/146) (Rare Holo)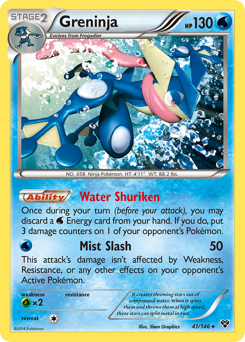 | Min | Avg | Max |
| --- | --- | --- |
| $0.99 | $3.98 | $7.57 |
Avg Last Week
$2.49

+59.83%
Greninja XY Card Stats & Information:
HP: 130
Attacks:
Mist Slash: This attack's damage isn't affected by Weakness, Resistance, or any other effects on your opponent's Active Pokemon.
Weaknesses:
Grass: x2
Abilities:
Water Shuriken:
Once during your turn (before your attack), you may discard a Water Energy card from your hand. If you do, put 3 damage counters on 1 of your opponent's Pokemon.
Ability
XY Greninja card artist: 5ban Graphics
Greninja

- BREAKpoint Price
(40/122) (Rare)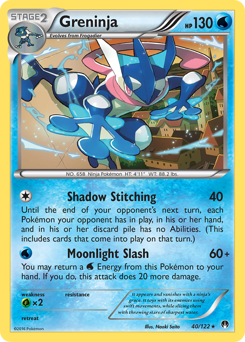 | Min | Avg | Max |
| --- | --- | --- |
| $0.99 | $2.87 | $6.62 |
Avg Last Week
$2.58

+11.24%
Greninja BREAKpoint Card Stats & Information:
HP: 130
Attacks:
Shadow Stitching: Until the end of your opponent's next turn, each Pokemon your opponent has in play, in his or her hand, and in his or her discard pile has no Abilities. (This includes cards that come into play on that turn.)
Moonlight Slash: You may return a Water Energy from this Pokemon to your hand. If you do, this attack does 20 more damage.
Weaknesses:
Grass: x2
BREAKpoint Greninja card artist: Naoki Saito
Open
We use cookies to improve our site experience.
Click below to agree and accept our use of cookies, analytics tracking by Google Analytics, and ad targeting through Google Adsense.