Erika's Exeggcute Pokémon Card Value
Erika's Exeggcute

- Gym Heroes
(43/132) (Uncommon)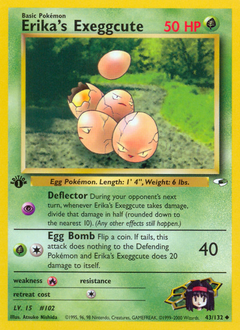 Card information:
HP: 50
Attacks:
Deflector: During your opponent's next turn, whenever Erika's Exeggcute takes damage, divide that damage in half (rounded down to the nearest 10). (Any other effects still happen.)
Egg Bomb: Flip a coin. If tails, this attack does nothing to the Defending Pokemon and Erika's Exeggcute does 20 damage to itself.
Weaknesses:
Fire: x2
Artist: Atsuko Nishida
No cards available
Erika's Exeggcute

- Gym Heroes
(77/132) (Common)
Card information:
HP: 40
Attacks:
Eggsplosion: Flip a number of coins equal to the number of Energy attached to Erika's Exeggcute. This attack does 10 damage times the number of heads.
Psychic: Does 10 damage plus 10 more damage for each Energy card attached to the Defending Pokemon.
Weaknesses:
Fire: x2
Artist: Ken Sugimori
No cards available
Open
We use cookies to improve our site experience.
Click below to agree and accept our use of cookies, analytics tracking by Google Analytics, and ad targeting through Google Adsense.