Drifblim FB Pokémon Card Value
Drifblim FB

- Supreme Victors Price
(3/147) (Rare Holo)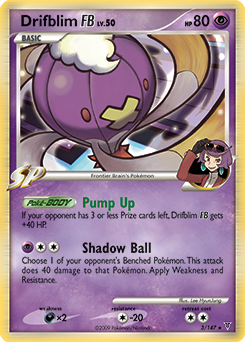 | Min | Avg | Max |
| --- | --- | --- |
| $0.99 | $4.47 | $6.99 |
Avg Last Week
$2.50

+78.80%
Drifblim FB Supreme Victors Card Stats & Information:
HP: 80
Attacks:
Shadow Ball: Choose 1 of your opponent's Benched Pokemon. This attack does 40 damage to that Pokemon. Apply Weakness and Resistance.
Resistances:
Colorless: -20
Weaknesses:
Darkness: x2
Abilities:
Pump Up:
If your opponent has 3 or less Prize cards left, Drifblim FB gets +40 HP.
Poke-Body
Supreme Victors Drifblim FB card artist: Lee HyunJung