Dark Houndoom Pokémon Card Value
Dark Houndoom

- Neo Destiny Price
(7/105) (Rare Holo)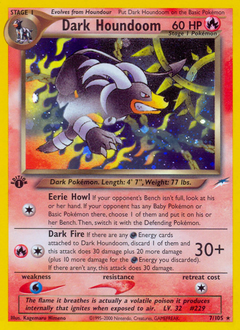 | Min | Avg | Max |
| --- | --- | --- |
| $29.90 | $61.77 | $99.99 |
Avg Last Week
$50.45

+22.43%
Dark Houndoom Neo Destiny Card Stats & Information:
HP: 60
Attacks:
Eerie Howl: If your opponent's Bench isn't full, look at his or her hand. If your opponent has any Baby Pokemon or Basic Pokemon there, choose 1 of them and put it on his or her Bench. Then, switch it with the Defending Pokemon.
Dark Fire: If there are any Energy cards attached to Dark Houndoom, discard 1 of them and this attack does 30 damage plus 20 more damage (plus 10 more damage for the Energy you discarded). If there aren't any, this attack does 30 damage.
Weaknesses:
Water: x2
Neo Destiny Dark Houndoom card artist: Kagemaru Himeno
| Min | Avg | Max |
| --- | --- | --- |
| $1.00 | $61.41 | $179.99 |
Avg Last Week
$29.58

+107.60%
Dark Houndoom EX Team Rocket Returns Card Stats & Information:
| Min | Avg | Max |
| --- | --- | --- |
| $4.90 | $166.23 | $1,500.00 |
Avg Last Week
$3.08

+5297.07%
Dark Houndoom EX Team Rocket Returns Card Stats & Information:
Open
We use cookies to improve our site experience.
Click below to agree and accept our use of cookies, analytics tracking by Google Analytics, and ad targeting through Google Adsense.