Dark Flaaffy Pokémon Card Value
Dark Flaaffy

- Neo Destiny Price
(34/105) (Uncommon)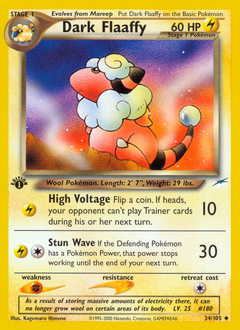 | Min | Avg | Max |
| --- | --- | --- |
| $2.50 | $5.36 | $10.25 |
Avg Last Week
$15.50

-65.41%
Dark Flaaffy Neo Destiny Card Stats & Information:
HP: 60
Attacks:
High Voltage: Flip a coin. If heads, your opponent can't play Trainer cards during his or her next turn.
Stun Wave: If the Defending Pokemon has a Pokemon Power, that power stops working until the end of your next turn.
Weaknesses:
Fighting: x2
Neo Destiny Dark Flaaffy card artist: Kagemaru Himeno
| Min | Avg | Max |
| --- | --- | --- |
| $3.49 | $41.96 | $290.00 |
Avg Last Week
$3.99

+951.62%
Dark Flaaffy EX Team Rocket Returns Card Stats & Information:
Open
We use cookies to improve our site experience.
Click below to agree and accept our use of cookies, analytics tracking by Google Analytics, and ad targeting through Google Adsense.