Butterfree FB Pokémon Card Value
Butterfree FB

- Supreme Victors Price
(17/147) (Rare)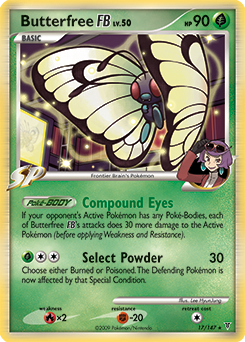 | Min | Avg | Max |
| --- | --- | --- |
| $0.99 | $18.14 | $200.00 |
Avg Last Week
$1.84

+885.86%
Butterfree FB Supreme Victors Card Stats & Information:
HP: 90
Attacks:
Select Powder: Choose either Burned or Poisoned. The Defending Pokemon is now affected by that Special Condition.
Resistances:
Fighting: -20
Weaknesses:
Fire: x2
Abilities:
Compound Eyes:
If your opponent's Active Pokemon has any Poke-Bodies, each of Butterfree FB's attacks does 30 more damage to the Active Pokemon (before applying Weakness and Resistance).
Poke-Body
Supreme Victors Butterfree FB card artist: Lee HyunJung