Bruxish Pokémon Card Value
Bruxish is a water and psychic type Pokemon.
Below is a compiled list of prices and values separated by TCG set. Available are the minimum, average, and maximum prices which are updated on an hourly basis. Each set also contains the current price average percent increase or decrease in comparison to the average for the previous week.
Bruxish

- Sun & Moon Price
(48/149) (Rare)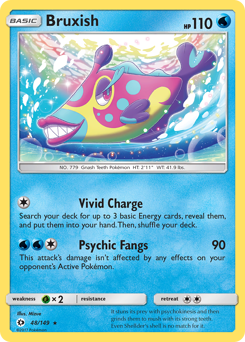 | Min | Avg | Max |
| --- | --- | --- |
| $0.99 | $1.25 | $1.50 |
Avg Last Week
$1.41

-11.34%
Bruxish Sun & Moon Card Stats & Information:
HP: 110
Attacks:
Vivid Charge: Search your deck for up to 3 basic Energy cards, reveal them, and put them into your hand. Then, shuffle your deck.
Psychic Fangs: This attack's damage isn't affected by any effects on your opponent's Active Pokemon.
Weaknesses:
Grass: x2
Sun & Moon Bruxish card artist: Mizue