Bronzong 4 Pokémon Card Value
Bronzong 4

- Rising Rivals Price
(16/111) (Rare)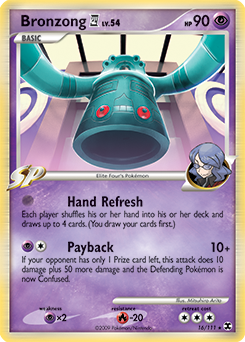 | Min | Avg | Max |
| --- | --- | --- |
| $0.99 | $5.67 | $27.99 |
Avg Last Week
$2.60

+118.07%
Bronzong 4 Rising Rivals Card Stats & Information:
HP: 90
Attacks:
Hand Refresh: Each player shuffles his or her hand into his or her deck and draws up to 4 cards. (You draw your cards first.)
Payback: If your opponent has only 1 Prize card left, this attack does 10 damage plus 50 more damage and the Defending Pokemon is now Confused.
Resistances:
Fire: -20
Weaknesses:
Psychic: x2
Rising Rivals Bronzong 4 card artist: Mitsuhiro Arita