Blaine's Vulpix Pokémon Card Value
Blaine's Vulpix

- Gym Heroes
(65/132) (Common)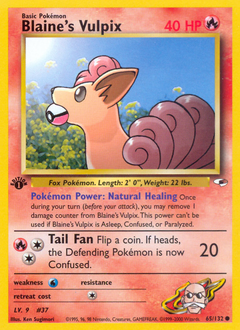 Card information:
HP: 40
Attacks:
Tail Fan: Flip a coin. If heads, the Defending Pokemon is now Confused.
Weaknesses:
Water: x2
Abilities:
Natural Healing:
Once during your turn (before your attack), you may remove 1 damage counter from Blaine's Vulpix. This power can't be used if Blaine's Vulpix is Asleep, Confused, or Paralyzed.
Pokemon Power
Artist: Ken Sugimori
No cards available
Blaine's Vulpix

- Gym Challenge
(66/132) (Common)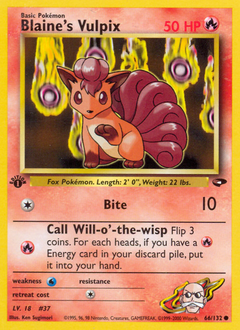 Card information:
HP: 50
Attacks:
Bite:
Call Will-o'-the-wisp: Flip 3 coins. For each heads, if you have a Energy card in your discard pile, put it into your hand.
Weaknesses:
Water: x2
Artist: Ken Sugimori
No cards available
Open
We use cookies to improve our site experience.
Click below to agree and accept our use of cookies, analytics tracking by Google Analytics, and ad targeting through Google Adsense.