Barboach Pokémon Card Value
Barboach is a water and ground type Pokemon.
Below is a compiled list of prices and values separated by TCG set. Available are the minimum, average, and maximum prices which are updated on an hourly basis. Each set also contains the current price average percent increase or decrease in comparison to the average for the previous week.
Barboach

- EX Dragon Price
(51/97) (Common)
| Min | Avg | Max |
| --- | --- | --- |
| $0.99 | $1.56 | $2.80 |
Avg Last Week
$2.36

-33.89%
Barboach EX Dragon Card Stats & Information:
Barboach

- EX Deoxys Price
(54/107) (Common)
| Min | Avg | Max |
| --- | --- | --- |
| $0.99 | $1.84 | $3.12 |
Avg Last Week
$3.07

-40.06%
Barboach EX Deoxys Card Stats & Information:
Barboach

- EX Holon Phantoms Price
(60/110) (Common)
| Min | Avg | Max |
| --- | --- | --- |
| $0.99 | $2.03 | $3.46 |
Avg Last Week
$3.60

-43.61%
Barboach EX Holon Phantoms Card Stats & Information: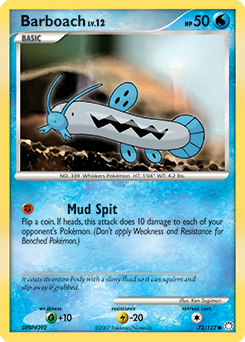 | Min | Avg | Max |
| --- | --- | --- |
| $0.99 | $1.58 | $2.50 |
Avg Last Week
$1.53

+3.26%
Barboach Mysterious Treasures Card Stats & Information:
HP: 50
Attacks:
Mud Spit: Flip a coin. If heads, this attack does 10 damage to each of your opponent's Pokemon. (Don't apply Weakness and Resistance for Benched Pokemon.)
Resistances:
Lightning: -20
Weaknesses:
Grass: +10
Mysterious Treasures Barboach card artist: Ken Sugimori
Barboach

- Primal Clash Price
(39/160) (Common)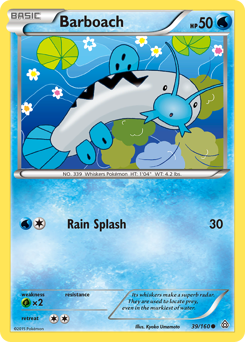 | Min | Avg | Max |
| --- | --- | --- |
| $0.99 | $1.15 | $1.85 |
Avg Last Week
$1.36

-15.44%
Barboach Primal Clash Card Stats & Information:
HP: 50
Attacks:
Rain Splash:
Weaknesses:
Grass: x2
Primal Clash Barboach card artist: Kyoko Umemoto
Open
We use cookies to improve our site experience.
Click below to agree and accept our use of cookies, analytics tracking by Google Analytics, and ad targeting through Google Adsense.