Alolan Muk Pokémon Card Value
Alolan Muk

- Sun & Moon Price
(58/149) (Rare Holo)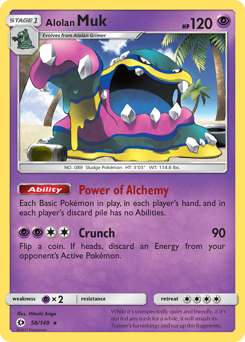 | Min | Avg | Max |
| --- | --- | --- |
| $1.25 | $2.90 | $5.00 |
Avg Last Week
$2.20

+31.81%
Alolan Muk Sun & Moon Card Stats & Information:
HP: 120
Attacks:
Crunch: Flip a coin. If heads, discard an Energy from your opponent's Active Pokemon.
Weaknesses:
Psychic: x2
Abilities:
Power of Alchemy:
Each Basic Pokemon in play, in each player's hand, and in each player's discard pile has no Abilities.
Ability
Sun & Moon Alolan Muk card artist: Hitoshi Ariga