Registeel Pokémon Card Value
Registeel is a steel type Pokemon.
Below is a compiled list of prices and values separated by TCG set. Available are the minimum, average, and maximum prices which are updated on an hourly basis. Each set also contains the current price average percent increase or decrease in comparison to the average for the previous week.
| Min | Avg | Max |
| --- | --- | --- |
| $2.99 | $9.19 | $24.99 |
Avg Last Week
$5.51

+66.78%
Registeel EX Holon Phantoms Card Stats & Information:
Registeel

- Legends Awakened Price
(39/146) (Rare)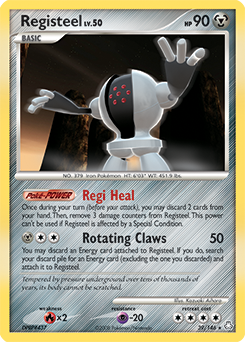 | Min | Avg | Max |
| --- | --- | --- |
| $0.99 | $9.65 | $45.00 |
Avg Last Week
$2.99

+222.74%
Registeel Legends Awakened Card Stats & Information:
HP: 90
Attacks:
Rotating Claws: You may discard an Energy card attached to Registeel. If you do, search your discard pile for an Energy card (excluding the one you discarded) and attach it to Registeel.
Resistances:
Psychic: -20
Weaknesses:
Fire: x2
Abilities:
Regi Heal:
Once during your turn (before your attack), you may discard 2 cards from your hand. Then, remove 3 damage counters from Registeel. This power can't be used if Registeel is affected by a Special Condition.
Poke-Power
Legends Awakened Registeel card artist: Kazuaki Aihara
Registeel

- Ancient Origins Price
(51/98) (Rare)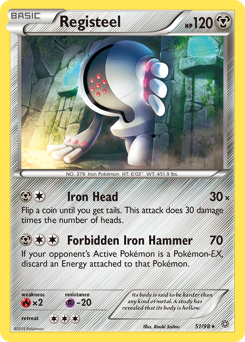 Avg Last Week
$1.72

-100.00%
Registeel Ancient Origins Card Stats & Information:
HP: 120
Attacks:
Iron Head: Flip a coin until you get tails. This attack does 30 damage times the number of heads.
Forbidden Iron Hammer: If your opponent's Active Pokemon is a Pokemon-EX, discard an Energy attached to that Pokemon.
Resistances:
Psychic: -20
Weaknesses:
Fire: x2
Ancient Origins Registeel card artist: Kouki Saitou
No cards available
Open
We use cookies to improve our site experience.
Click below to agree and accept our use of cookies, analytics tracking by Google Analytics, and ad targeting through Google Adsense.